Africa: South Africa & Namibia
From $1,779.00 USD
Africa: South Africa & Namibia
from Cape Town, South Africa - 12 DAY CRUISE 2023
Come aboard the beautifully refurbished ship for a vacation of a lifetime. You'll begin in the vibrant city of Cape Town, which in of itself is an incredible destination. Nature lover? Catch some sun or some waves at Aklantstrand Beach in stunning Richard's Bay. While in Durban, go on a safari to see exotic animals like nowhere on earth. And be sure to explore the highest sand dune in Namibia (1,256 feet) near Swakopmund and Walvis Bay in Namibia.

Cape Town, South Africa
Cape Town is both the legislative capital of South Africa and one of its most vibrant cities. Make your way to the top of Table Mountain for panoramic views of the surrounding city and harbor. Visit Robben Island to see the former site of the notorious former prison that held Nelson Mandela. Explore the manicured lawns and beautiful forest in Kirstenbosch National Botanical Gardens. Then stop by the V&A Waterfront for some shopping and entertainment.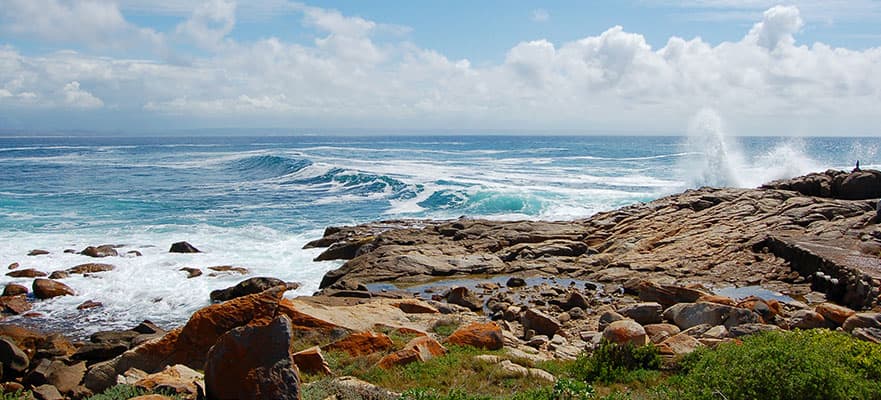 Mossel Bay, South Africa
Located along the Southern Cape, Mossel Bay is one of South Africa's most popular tourist destinations. Sink your toes into the sands of Santos Beach. Hike up the trail to the Cape St. Blaize Lighthouse where the 19th century structure provides stunning views of the surrounding area. Learn about the earliest humans at the Point of Human Origins archaeological site. Then explore the more recent cultural heritage at the Bartolomeu Dias Museum.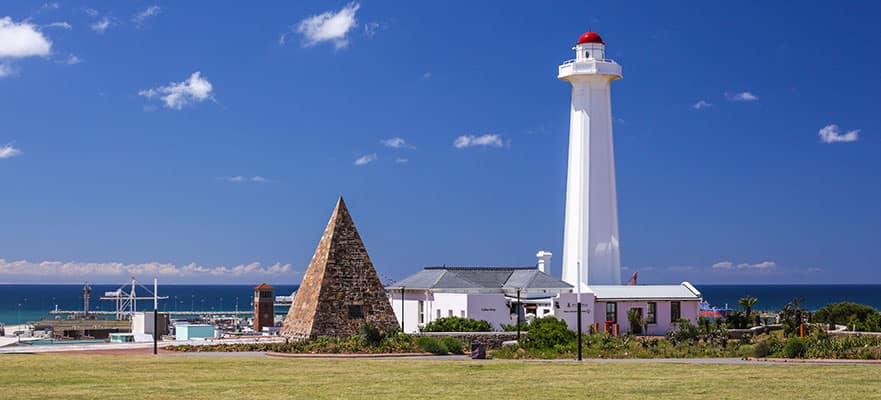 Port Elizabeth (Gqeberha), South Africa
Port Elizabeth (Gqeberha) is one of South Africa's major municipalities and bears the nickname "The Friendly City." Relax on beautiful King's Beach. Spot some big game at the Kragga Kamma Game Park nature reserve. Explore the rich history of South Africa's Eastern Cape at the Donkin Reserve. Try local dishes like potjiekos, an indigenous stew cooked outdoors in a cast-iron pot.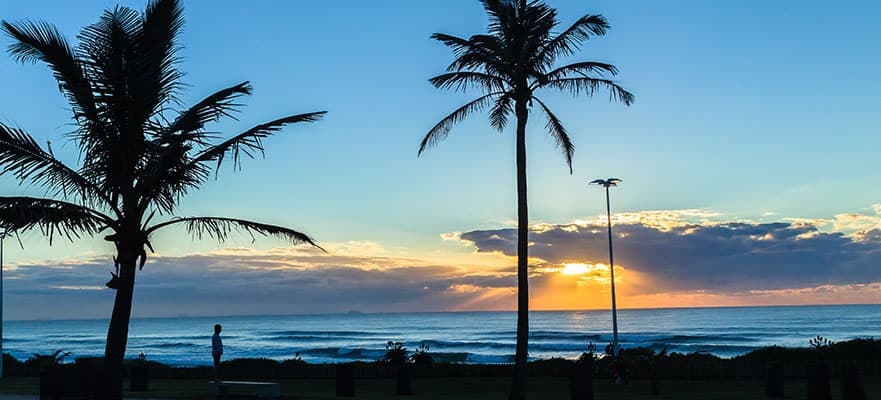 Richards Bay, South Africa
Situated on the deepest natural harbor in the Southern Hemisphere, Richards Bay will thrill both nature and culture seekers. Spend the day walking through the Umlalazi Nature Reserve where you might see one of the rarest birds of pray in South Africa, the Palm-Nut vulture. Catch some sun or some waves at Aklantstrand Beach or learn about South African history and art at the Empangeni Museum.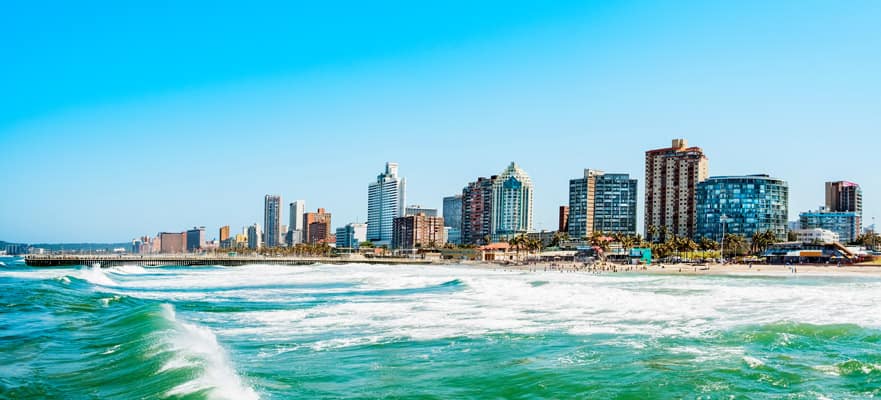 Durban, South Africa
With rich cultures, expansive beaches and historic landmarks intertwined within a hip, vibrant atmosphere, Durban boasts a seemingly endless array of possibilities. The port city is home to the largest population of Indians outside India and also to millions of Zulu (South Africa's largest ethnic group). Visit an authentic Zulu village for a glimpse into their traditions. While touring the city's historic sites, including Mahatma Gandhi's house and International Printing Press, you can enjoy delicious Indian cuisine at a local restaurant. Or choose to slow it down, way down, lounging on warm sands or taking a rickshaw ride along the Golden Mile – a nearly four-mile-long beachfront esplanade.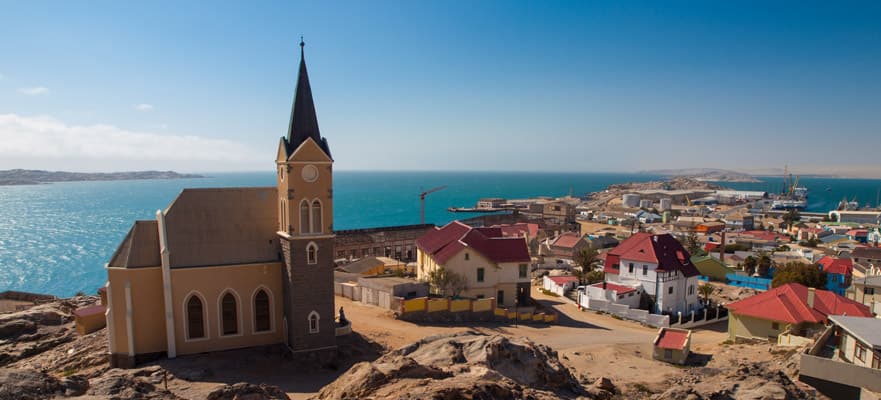 Luderitz, Namibia
Both its geographical location and German art nouveau architecture make Lüderitz a very surprising and unique destination to explore. Situated between the barren Namib Desert and the weathered South Atlantic coast lies what appears to be a charming Bavarian village peppered with historic landmarks, a museum and cafes. Though surrounded by seemingly unforgiving landscapes, the region is home to diverse wildlife, including penguins, whales, dolphins and a large array of breeding seabirds. Explore the coastline or journey inland on a desert adventure.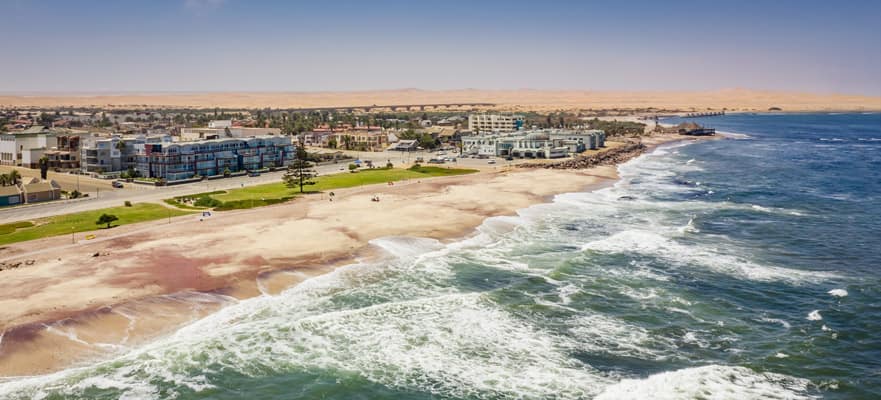 Walvis Bay, Namibia
Meaning "Whale Bay," Walvis Bay is located along a natural deepwater harbor by the Namib Desert and is an ideal location for both migrating and resident birds. A birdwatcher's paradise, more than 150 bird species have been recorded in the area with Walvis Bay Lagoon being a major hotspot. Bring your camera and binoculars for the chance to see thousands of flamingos and other species congregating. Or look to the ocean for a chance to see whales or dolphins. For some sand-based excitement, travel inland into the desert to Dune 7 (a staggering 1,256 feet tall) for a hike or to enjoy an exhilarating sandboarding experience.
Terms, conditions and restrictions apply; pricing, availability, and other details subject to change and/ or apply to US or Canadian residents. Please confirm details and booking information with your travel advisor.