Australia and New Zealand Uncovered
From $6,699.00 USD
About Australia
Australia and New Zealand Uncovered
Jan 22, 2024 - Feb 12, 2024
Days 1 - 2: Overnight Flight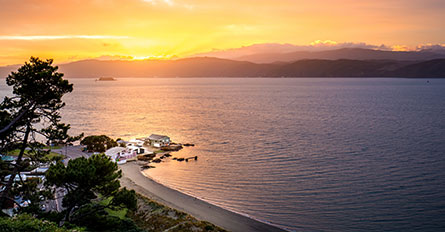 Encounter the untamed vitality and the captivating culture of New Zealand and Australia – a perfect blend of wildlife and urban energy that is rooted in tradition but is ever evolving with the Outback air. Delve into the South Pacific heritage and get a close look at New Zealand's Maori lifestyle and the roots of Australia's Aboriginal groups.
Day 3: Wellington, New Zealand - Tour Begins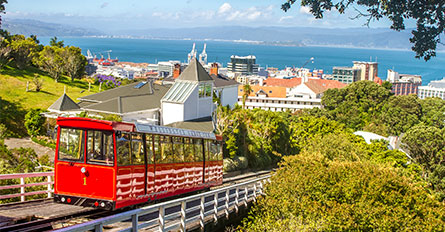 Your journey starts in New Zealand. Feel the ever-present heartbeat of Maori culture on this set of islands. Comprised of natural beauty and striking contrasts, live the Kiwi lifestyle for the next 10 days. Say hello to Wellington, the colorful capital city of New Zealand. Take in the gourmet eats, seaside charm, and scenic coastline as you feel the warm ocean breeze of the "Windy City."
Day 4: Wellington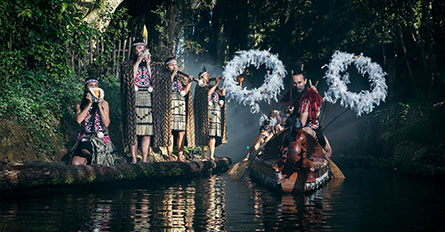 Jump right into Maori culture with a traditional powhiri, an elaborate ceremony for welcoming guests. Marvel at the carved wakas, sleek canoes of intricate design, at a Maori culture center. Get exclusive access to an archaeological site not open to the public during a guided exploration of a waterfront pa (Maori for village). Taste Maori heritage in a Hangi dish and discover the roots of the culture at the Te Papa Museum. Admire the rolling waves as you share conversation, connecting over dinner.
Day 5: Wellington - Picton - Nelson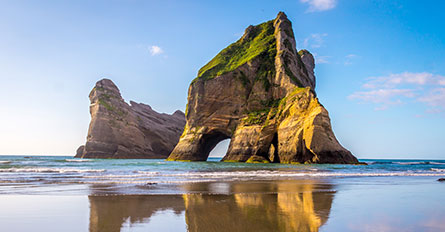 Surrounded by green slopes and rolling mountains, the Cook Strait will offer a picturesque landscape as you cruise over the stunning waters on your way to the South Island. Visit Nelson, the oldest city on the island. Enjoy an evening at leisure to experience this coastal hub, full of local works and a trending foodie scene. This local art hub highlights works from the area, artisan food markets, and sparkling waters.
Day 6: Nelson - Abel Tasman National Park - Nelson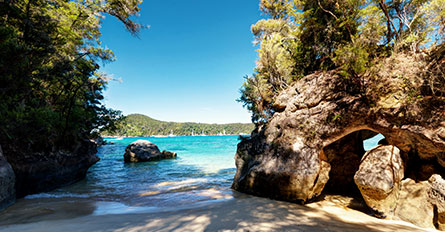 Explore the open-air Nelson Market, featuring delicious foods and goods. Chat with artisans as you walk along the spirited stalls and peruse an ever-evolving library of Kiwi crafts. Venture on to Kaiteriteri, a coastal paradise where you'll set sail through the graceful natural beauty of Abel Tasman National Park. Coast over the crystal-clear waters and pass reaching trees huddled along the shore. A picnic lunch awaits at the Anchorage, a scenic bay set amongst gentle waves and sandy coasts.
Day 7: Nelson - Hokitika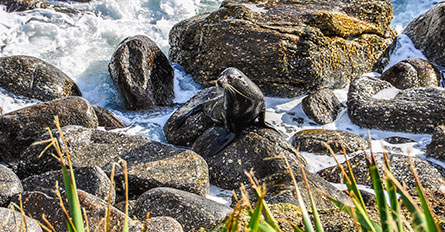 Today venture to the natural phenomenon of Punakaiki's Pancake Rocks. Feel the spray of the ocean crashing against these unique limestone formations with a flapjack façade. Tonight, dine at your beachfront hotel, a natural haven of craggy peaks and lively waterspouts.
Day 8: Hokitika - Franz Josef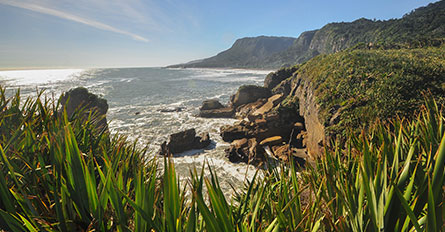 Wake up in Hokitika, better known as a "cool little town." Head to Hokitika Gorge for a taste of New Zealand's beloved West Coast nature. Return to town for a tour, ending with a walk along the beach and some free time to explore on your own. Make your way to Franz Josef, New Zealand's glacier country. Discover the area's seaside allure by combing the beach in search of New Zealand jade or perhaps you'll explore the shops and eateries in town.
Day 9: Franz Josef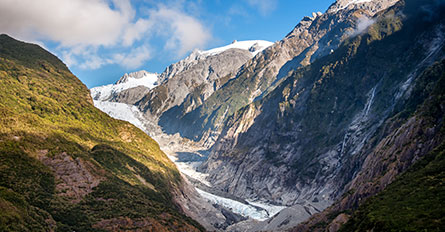 Choose how to start your day because it's your choice! View the Franz Josef Glacier with a local guide, traversing an exclusive trail not open to the public -OR- get a glimpse of kiwis at the West Coast Wildlife Centre, where you'll learn more about conservation and rehabilitation of this national icon. Enjoy free time to relax. Perhaps you will step into the rainforest and soak in the steamy thermal waters of the Franz Josef Glacier Hot Pools.
Day 10: Franz Josef - Queenstown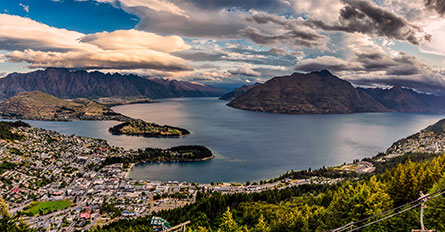 Journey through the thick rainforest and emerge on the "wild" west coast. With cliffs and beaches on your right and the southern snowcapped Alps on your left, there will be no shortage of riveting landscapes to capture your eye. Pause in Wanaka, a slice of tranquility nestled along a mountain-lined lake. Continue to Queenstown, the adventure capital of the world, and settle into your home for the next 3 nights.
Day 11: Queenstown - Milford Sound - Queenstown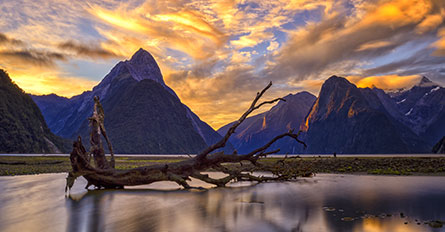 Enjoy the rugged grandeur of the Hollyford Valley and cross through an ancient red beech forest. Cruise along the waters of the dramatic Milford Sound, taking in the natural splendor around you. With cliffs rising up to nearly 4,000 feet, you'll see why this is one of the most visited sights on the South Island. Following your cruise, you may choose to return to Queenstown via a short optional flight (weather permitting) for spectacular views of New Zealand's Southern Alps.
Day 12: Queenstown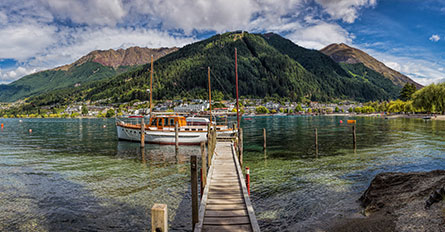 Today is yours! Explore the adventure capital whichever way your heart desires. Perhaps you'll choose an optional tour to Walter Peak Farm by steamboat, where you'll get to experience sheep-herding and farm dogs in action. Tonight, gather around the table as a welcomed guest when you join a local Kiwi family for a home cooked dinner.
Day 13: Queenstown - Sydney, Australia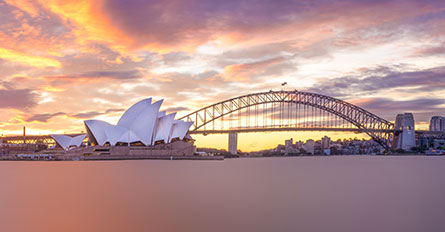 Wish New Zealand goodbye and enter Australia, home to expansive Outback and lively waterfront cities. Start your Aussie adventure in Sydney, the country's largest city.
Day 14: Sydney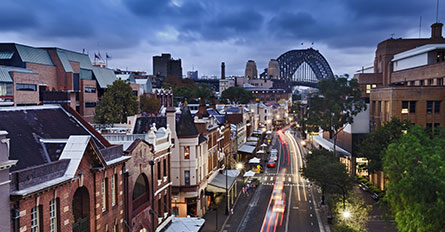 During a city tour get a glimpse at all the main highlights Sydney has to offer. Then, take a step into the past and explore the historic Rocks neighborhood, situated along the edge of Sydney Harbour. Continue along to the port Circular Quay before strolling through the winding paths of the Royal Botanical Gardens. Here, you'll delve into Aboriginal culture by learning about native plants and foraging for traditional foods. Go behind the scenes of the Sydney Opera House on an expert-led guided tour of this legendary venue. As the sun sets, admire the city skyline on a dinner cruise through Sydney Harbour and watch the sky transform into a myriad of pinks and oranges over the iconic Sydney Opera House.
Day 15: Sydney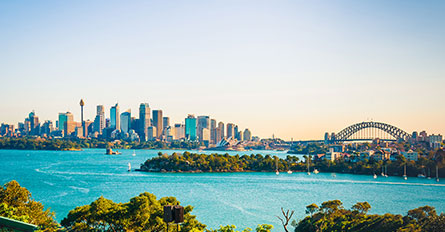 Make the most of your final day in Sydney with a full day at leisure where you can take advantage of your included hop-on, hop-off ferry passes! Or, you may choose to go on an optional Sydney Foodie Safari or take in a performance at the Sydney Opera House.
Day 16: Sydney - Adelaide - Hahndorf
Set off on a short flight to Adelaide, the cosmopolitan hub of South Australia. Indulge in a wine tasting at d'Arenberg Cube, home to eccentric architecture and vibrant surroundings, and discover why the wine maker is referred to as the "Willy Wonka of Wines." Visit Hahndorf, a charming village in the Adelaide Hills and the oldest surviving German settlement in Australia. Get a taste of German cuisine and local flavors at tonight's dinner.
Day 17: Hahndorf - Barossa Valley - Hahndorf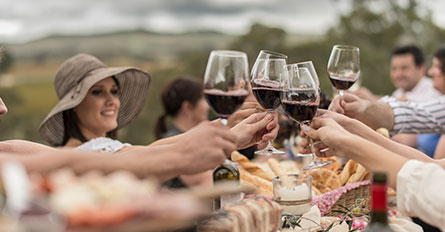 Treat your taste buds to a full-day exploration of the Barossa Valley's fine food and wine. Breathe in the calming essence of lavender at Lyndoch Lavender Farm, joining an expert on a guided tour of the estate. Savor a light lunch during a lavender tea party, featuring flavorful bites and lavender sweets. Your vintner voyage continues with a tour and tasting at the famous Seppeltsfield Winery, one of the oldest in the Barossa Valley.
Day 18: Hahndorf - Adelaide - Uluru (Ayers Rock)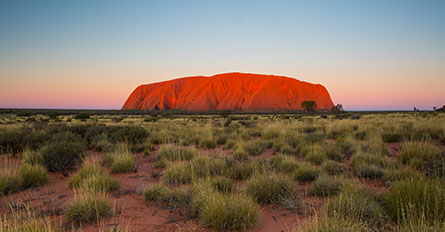 Your adventure continues to Uluru (Ayers Rock). After your flight from Adelaide, relish in free time this afternoon before gathering for an unforgettable evening set in the backdrop of this Aboriginal destination. Experience the Sounds of Silence dinner, a gourmet meal overlooking the glowing Uluru. As the sun drops behind the horizon and the Milky Way starts to twinkle, relax as you eat dinner under a bed of stars, overlooking Australia's greatest natural wonder.
Day 19: Uluru (Ayers Rock) - Cairns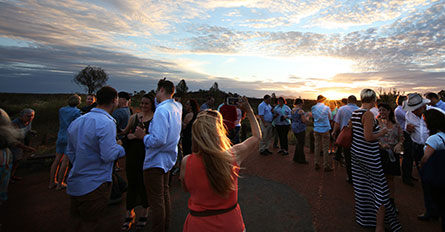 Get a close look at the iconic, monstrous red rocks emerging from the earth, sprung up as if beckoned toward the clouds. On a guided tour of Uluru's base and the neighboring Kata Tjuta rock formations, discover the heritage of Australia's Aboriginal people. Fly to Cairns and enjoy an evening at leisure, getting to know this gateway to an underwater paradise.
Day 20: Cairns - Great Barrier Reef - Cairns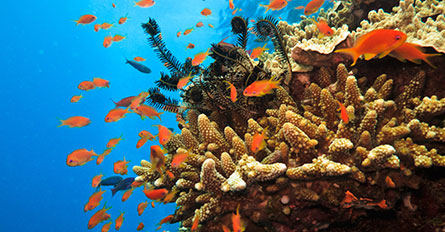 Board a glass-bottom catamaran and sail to the Low Isles to discover the aquatic realm of the Great Barrier Reef. Spend the day however you please, perhaps choosing from a selection of included activities. Maybe you'll soak up the sun on a tiny remote island,* located along the outer reef. Or consider snorkeling in the rolling waves, uncovering a pod of vibrant sea life. You can also meet with a marine biologist, or join an expert on a heritage trail walk along the island.
Day 21: Cairns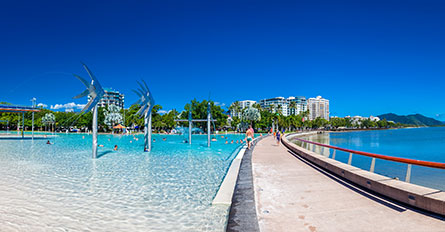 Enjoy a full day at leisure to relax or explore the tropical city of Cairns. Toast to the end of your journey at a farewell dinner, reflecting on your Outback escapade.
Day 22: Cairns - Tour Ends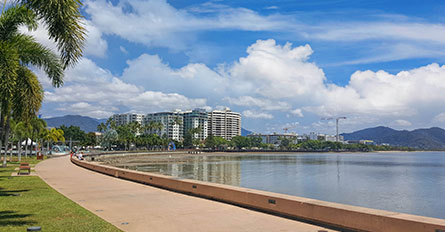 Your tour of New Zealand and Australia comes to a close today.
C
Terms, conditions and restrictions apply; pricing, availability, and other details subject to change and/ or apply to US or Canadian residents. Please confirm details and booking information with your travel advisor.